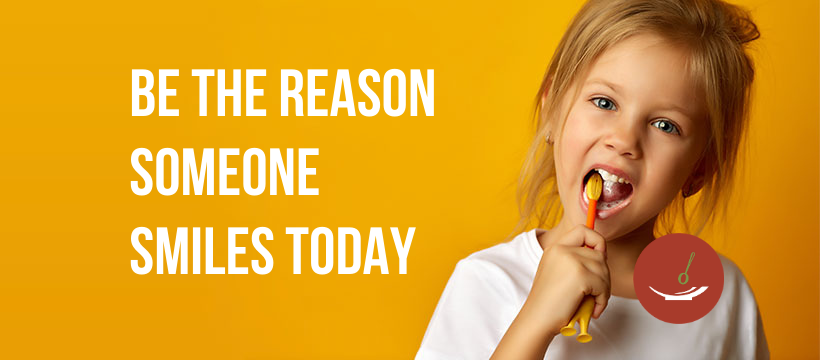 Healthy, supplemental food is just one aspect of the everyday essentials the pantry provides to community members in need. Toothbrushes & toothpaste fly off our shelves and we need your help stocking up.

This month is National Children's Dental Health month – and as part of our commitment to strong bodies, strong minds, and positive growth for all kids in our community we're prioritizing education & awareness on the importance of oral health, especially for young ones as their teeth are only starting to grow.
Check out some great American Dental Association resources below:
Myths + Truths about Children's Dental Health
Baby teeth are important.
Fact. Baby teeth are EXTREMELY important as they hold places in the mouth for adult teeth. Taking good care of your child's baby teeth may help to avoid other problems when he or she is older.
 
Diluting juice is better for your child's teeth.
Myth. Sugary drinks of any kind increase risk of decay. If you/your child do drink something sweet, try and rinse your mouth with water afterward.

Learn more and take the Fact or Fiction Quiz on Baby/Kid's Teeth.
---
Teaching Your Child How to Brush His/Her Teeth
Brushing teeth should happen as soon as teeth start to appear. 
Watch this quick video and check out 7 great tips to make brushing fun for kids.
---
Healthy Eating to Support Your Child's Dental Health
Nutritious foods are good for you and your teeth. At the pantry, we follow the MyPlate governmental guidelines for a balanced diet, which include:
Fruits and vegetables. Combined these should be half of what your child eats every day.

Grains. Make sure at least half of their grains are whole grains, such as oatmeal, whole wheat bread and brown rice.

Dairy. Choose low-fat or fat-free dairy foods.

Lean proteins. Make lean protein choices, such as lean beef, skinless poultry and fish. Try to vary protein choices to include eggs, beans, peas and legumes, too. Eat at least 8 oz. of seafood a week.
Read more about food nutrition and dental health.
Unnecessary sugar – be it juice, soda, and especially sticky snacks – throughout the day happens because of snacking habits. Read this ADA article on 6 Ways to Reduce Your Child's Sugary Snacking
---
It all starts with Healthy Habits
Tooth decay is preventable. Healthy habits around cleaning your child's teeth, pacifiers, fluoride, dental visits, and more make all the difference. Read more here.
---
Here's how you can support our dental health awareness & education at Pantry this month. 
Drop off dental health supplies for adults & kids – toothbrushes, toothpaste, floss, mouthwash

Drop off healthy snacking options – see our active wish list of needs to stock our shelves

Donate to the Fondy Food Pantry via the Paypal link in the top left of this webpage.
We hope you learned more about children's dental health and thank you for your support!